Engineered Systems & Panels
Xchange-Therm® Systems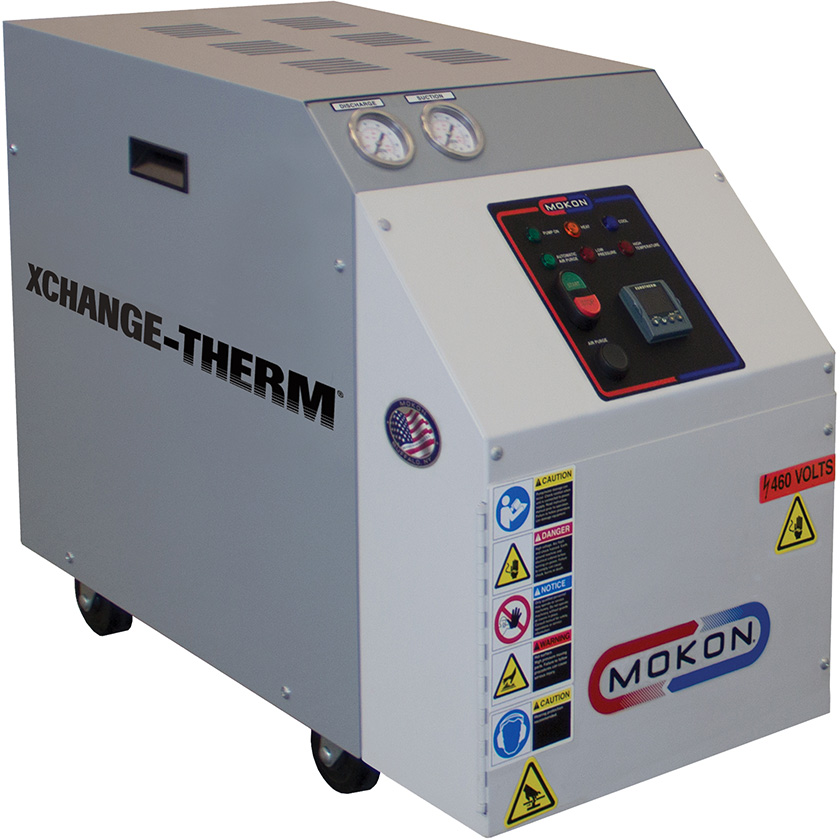 Designed for critical industrial process applications
Circulating water temperature control heating up to 300°F (149°C)
Combination heating and chilling systems ranging from -20°F to 300°F (-29°C to 149°C)
Xchange-Therm® Water System
Mokon's Xchange-Therm circulating water temperature control system features advanced heating technology with temperatures up to 250°F (121°C). The high performance design offers higher heat transfer rates with unmatched control efficiency and accuracy. Built with non-ferrous and stainless-steel materials, the Xchange-Therm water system manages excellent corrosion resistance and leak-free operation in a compact, easy to move unit.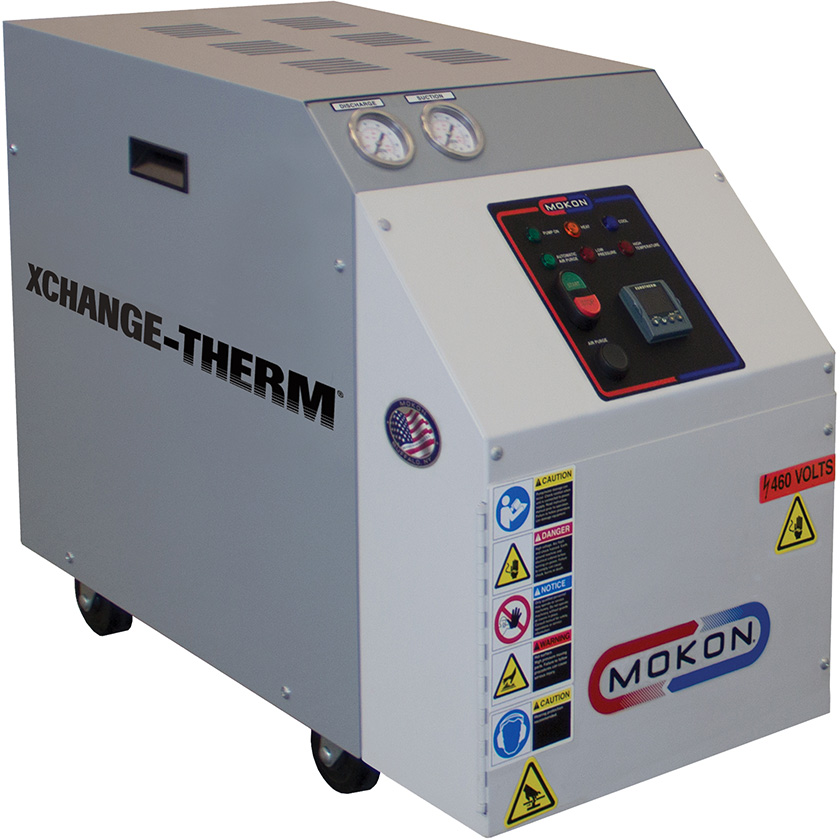 Xchange-Therm® Heating and Chilling System
Mokon's water-based Xchange-Therm temperature control system offers a combination of heating and chilling in one superior package. A Mokon water system combined with a chiller integrates the benefits and features of both products into one compact, self-supporting unit. The Xchange-Therm heating and chilling systems are available with a temperature range of 20°F to 250°F (-7°C to 121°C).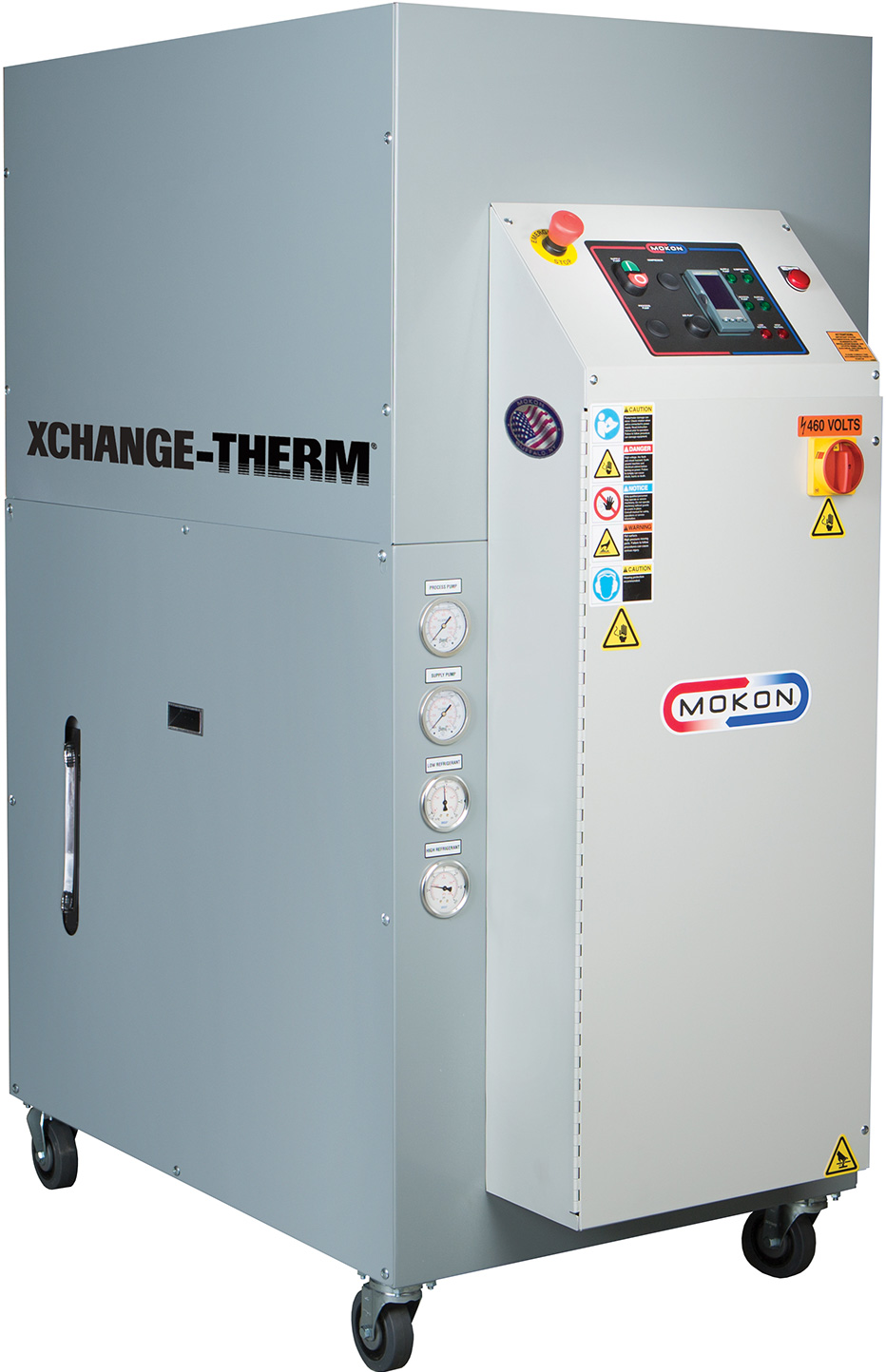 Trusted Standard Features
Temperatures up to 250°F (121°C)
NEMA/Type 1 panels
Heating, cooling, or heating & cooling designs
Horizontal stainless steel heater canister with unique turbulent flow diverter
Small hold-up volume and energyefficient heater design
Stainless steel pump, composite impeller, and silicon-carbide seal
Non-ferrous materials
Non-proprietary microprocessor-based controller in easily accessible panel
Safety shut-off switches
Solenoid cooling valve
Open circuit (direct cooling) or closed circuit (indirect cooling)
Heat exchanger (brazed plate or shell & tube)
Painted steel powder-coated finish
Removable panels for easy maintenance access
Heavy-duty removable casters for portability
cULus 508A labeled electrical subpanel
Customizable Options
High temperatures up to 300°F (149°C)
Process cooling down to -20°F (-29°C)
Heating capacity up to 96 kW and up to 60 Ton chilling capacity
Multi-zone circuits
3-A heat exchangers and heat remover designs for process isolation
High efficiency pumps up to 10 Hp
TEFC motors
Liquid-filled pressure gauges
Magnetic drive sealless pumps
Vented and pressurized tanks
Sanitary tri-clamp connections
Passivation/electro-polished surfaces
Wash down designs
Suitable for ISO 14644 cleanroom standard and associated controlled environments
Stainless steel cabinetry and wetted parts
Welded connections
Tool-free access panels
Modulating cooling valve
Leveling legs
Special paint
Audible and visual alarms
SCR and solid state relays
Remote interface electrical enclosures
Electronic controllers and RTD's calibrated to ISO 17025 standards
Variety of communication capabilities
Remote start/stop
UL, CSA, CE, and System certifications C
Mokon's innovative heating and cooling systems meet the requirements of both composite manufacturers and end users for product consistency, accuracy, and quality.
Mokon's state-of-the-art heat transfer systems and chillers offer the precise temperature control, reliability, and durability required by the automotive and rubber processing industries.
Chemical processors require precise, stable fluid temperature control - or otherwise risk lost batches, unmet deadlines or high costs for waste disposal. We offer corrosion-resistant materials that can withstand frequent wash downs and exposure to hazardous atmospheres.
Our engineers have the experience in sizing and constructing quality temperature control systems to meet the extreme thermal dynamics of die casting applications.
Whether it's extruding chocolate, mixing dough or fermenting wine, the food and beverage processing industry requires precise temperature control for its manufacturing processes. With a variety of systems, plus expertise in customization, Mokon can meet the needs of any food or beverage company.
When it comes to ensuring tighter tolerances for packaging materials or regulating temperatures in printing presses and rollers, Mokon offers years of experience in designing and engineering high-quality, accurate heating and cooling systems.
To meet the demanding needs of the pet food industry, Mokon offers a wide range of high-performance process temperature control equipment. Our expertise includes NEMA 4X rated panels, stainless steel and wash down construction, food-grade heat exchangers and much more.
Mokon's innovative line of process heating and cooling systems are designed to meet the pharmaceutical, medical, biomedical and industrial hemp extraction and distillation industry requirements for precise process fluid temperature control.
The plastics industry is the third-largest manufacturing industry in the U.S. To keep up with increasing demand, Mokon's expert engineers have developed process heating and cooling equipment that regulates molds, dies and polymer temperatures to ensure effective control.
Mokon engineers work constantly to create reliable heating and cooling process solutions to meet the evolving needs of power and energy applications.
Semiconductor applications have specific needs that require low defects and precise temperature control. Mokon engineers understand these unique specifications and create systems to meet them exactly.