Press Releases
Glycol Heat Transfer Fluids Are Now Available
January 15, 2016 – Mokon, a leader in high-quality circulating liquid temperature control systems, has added glycol solutions to their extensive product line. Glycol based solutions in both ethylene and propylene are now available for immediate shipment. The addition of these fluids complements our existing line of heat transfer fluid products.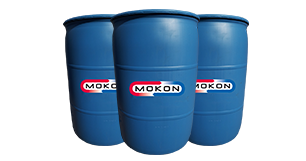 The glycol solutions are recommended for use in all closed primary and secondary heating, cooling, and refrigeration systems. The fluids are fully inhibited glycol based solutions designed for applications where no incidental contact with humans, food, or beverage products could occur.
The heat transfer fluid is manufactured using only new, virgin glycol. The inhibitor package is scientifically formulated of new, food grade ingredients and blended into the glycol under tightly controlled manufacturing procedures.
ABOUT MOKON – For over 60 years, Mokon has set the standard for high quality circulating liquid temperature control systems. Through the development of new products, refinement of existing designs, and our ability to create custom engineered solutions, Mokon has consistently demonstrated its ability to foresee the evolving needs of customers in plastics, packaging, converting, composites, food processing, pharmaceutical, chemical processing, rubber, printing, general processing and many more industries.
The company's product line has grown significantly since it first introduced a water temperature control system in 1955 to include heat transfer oil systems, portable and central chillers, pump tanks, cooling towers, blown film coolers, cold climate coolers, engineered and pre-engineered control panels, maintenance products and custom designed/engineered systems.
Mokon's circulating liquid heating and chilling equipment is proudly designed and manufactured in the USA. Mokon is an ISO 9001:2008 and ISO 14001:2015 certified company.