Xtreme-Therm Water System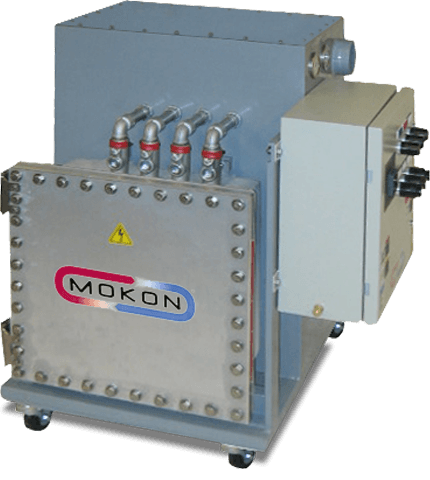 Xtreme-Therm for Severe-Duty Industrial Applications
Mokon's Xtreme-Therm® line features high-performing equipment designed for severe-duty environments in industrial manufacturing applications. Our portable chillers, combination heating and chilling systems, and circulating water and oil temperature control systems are built with robust polyester powder coated steel cabinetry. These high-quality products provide long-lasting operation in harsh industrial environments, assuring you a trusted, reliable temperature control solution. Mokon can customize any system to fit your specific requirements.
Xtreme-Therm Circulating Water Temperature Control System
Mokon's Xtreme-Therm circulating water temperature control system features advanced heating technology with temperatures up to 250°F (121°C). The high-performance design offers higher heat transfer rates with unmatched control efficiency and accuracy. Built with non-ferrous and stainless steel materials, the Xtreme-Therm water system manages excellent corrosion resistance and leak-free operation in a compact, easy to move unit.
Polyester powder coated heavy-gauge steel cabinets
NEMA 4/12 panel with "Z" purge system suitable for Class I Division 2 locations
cULus 508A labeled panel and certified to UL 698A
UL 98 disconnect switch
Microprocessor controller
Remote set point and retransmission control and communication capabilities
Open loop (direct injection) single circuit design
Incoloy sheathed heaters with NEMA 4 housings
TEFC motors
Liquid-filled pressure gauges
Water-cooled and remote air-cooled condensers
Temperatures up to 300°F (149°C)
Heating capacity up to 500 kW
NEMA 4/12 panel with "X" purge system suitable for Class I Division 1 locations
NEMA 7 cast aluminum panel suitable for Class I Division 1 or 2 locations
Closed loop (indirect cooling) and multi-zone circuits
High-efficiency pumps up to 10 Hp
Magnetic drive sealless pumps
Vented and pressurized tanks
Passivation/electro-polish surfaces
Tool-free access panels
Modulating cooling valve
Stainless steel leveling legs
Stainless steel and other custom finished cabinetry
Audible and visual alarms
SCR and solid-state relays
Remote interface electrical enclosures
Electronic controllers and sensors calibrated to ISO 17025 standards
Variety of communication capabilities
Remote start/stop
Please consult factory for more information.
Chemical processing
Corrosive/harsh environments
Explosion-proof areas
Flammable liquids, gases and vapors
Heat exchangers
Heat tracing/jacketed pipe
Jacketed vessels
Metal die casting
Mixers and blenders
OEM equipment and systems
Oil and gas refineries
Ovens and furnaces
Plating, electroplating and anodizing
Vaporizers
Vessels and reactors
Pump

Flow Rate and Pressure

Heating Capacity (kW)

Process
Supply/Drain

Approximate Dimensions (L x W x H)

1 Hp
25 GPM @ 25 PSI
9
18
24
1″
1″
42″ x 20″ x 37″
1½ Hp
40 GPM @ 32 PSI
9
18
24
1½″
1″
42″ x 20″ x 37″
3 Hp
60 GPM @ 34 PSI
9
18
24
1½″
1″
42″ x 20″ x 37″
5 Hp
80 GPM @ 38 PSI
9
18
24
1½″
1″
42″ x 20″ x 37″