Pura-Therm® Water System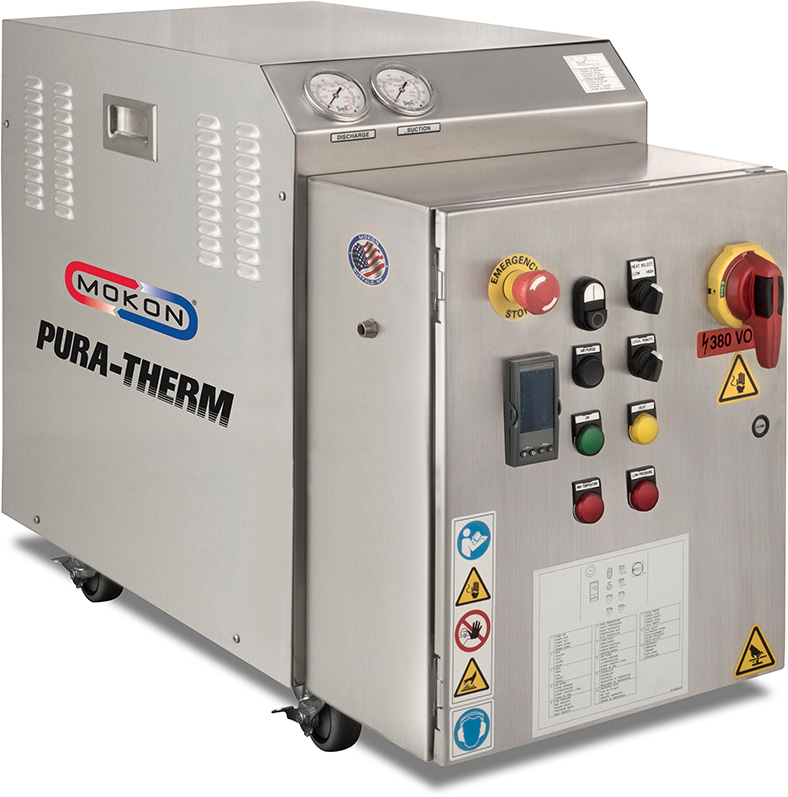 Pivotal Temperature Control Solutions
Mokon's Pura-Therm® line of high-performing temperature control solutions are relied on by critical medical and pharmaceutical companies to help accelerate the development of a COVID-19 vaccine. Mokon plays an integral role in this process by providing portable chillers, circulating water systems and combination heating and chilling solutions to expedite the development, manufacture and distribution of COVID-19 vaccines, therapeutics and diagnostics. Additionally, our high-quality systems are carefully applied in upstream research and development working to grow and control cultures for future vaccines. Mokon systems are built with durable stainless steel cabinetry and meet ISO Cleanroom Standard and associated controlled environments, assuring you trusted temperature control solutions for medical, pharmaceutical, industrial hemp and food manufacturing.
Pura-Therm Water System
Mokon's Pura-Therm circulating water temperature control system features advanced heating technology up to 250°F (121°C). The high-performance design offers higher heat transfer rates with unmatched control efficiency and accuracy. Built with non-ferrous and stainless steel materials, the Pura-Therm water system manages excellent corrosion resistance and leak-free operation in a compact, easy to move unit.
304 SS cabinets
NEMA 4X panels
Heating: stainless steel wetted parts
Cooling: non-ferrous materials
Wash down designs
Suitable for ISO 14644 Cleanroom Standard and associated controlled environments
cULus 508A labeled panel
UL 98 disconnect switch
Microprocessor controls
Remote set point, retransmission controllers and communication capabilities
Open loop (direct injection) single circuit
Incoloy sheath heaters
Stainless steel pump with silicon carbide pump seals
TEFC motors
Liquid-filled pressure gauges
Non-marring casters
Process temperatures up to 380°F (193°C)
Heating capacity up to 96 kW
Closed loop (indirect cooling) and multi-zone circuits
3-A heat exchangers and heat remover designs for process isolation
Magnetic drive sealless and high-efficiency pumps
Vented and pressurized tanks in a variety of materials
Sanitary tri-clamp and flanged connections
316 SS, passivation and electro-polished surfaces
Welded connections
Tool-free access panels
Modulating cooling valve
SCR and solid state relays
Remote interface enclosures and communication options
Electronic controllers and RTD's calibrated to ISO 17025 standards
CSA, CE and other System certifications
Please consult factory for more information.
Biotechnology and pharmaceutical
Cleanroom, sanitary and critical environments
Extrusion
Food and beverage processing
Heat exchanger
Hybrid composite materials
Kosher
Laboratory
Medicine and vitamin processing
Microelectronics
Mixers and blenders
Packaging
Pet food processing
Personal care/cosmetics
Plastic injection and blow molding
Reactors, sterilizers and fermenters
Surgical equipment and devices
Vessels/jacketed tanks
Pump

Flow Rate and Pressure

Heating Capacity (kW)

Process
Supply/Drain

Approximate Dimensions (L x W x H)

1 Hp
25 GPM @ 25 PSI
9
18
1″
1″
30″ x 17″ x 25″
24
1½ Hp
40 GPM @ 32 PSI
9
18
1½″
1″
30″ x 17″ x 25″
24
3 Hp
60 GPM @ 34 PSI
9
18
24
1½″
1″
34″ x 17″ x 27.5″
5 Hp
80 GPM @ 38 PSI
9
18
24
1½″
1″
34″ x 17″ x 27.5″