Duratherm Dual Zone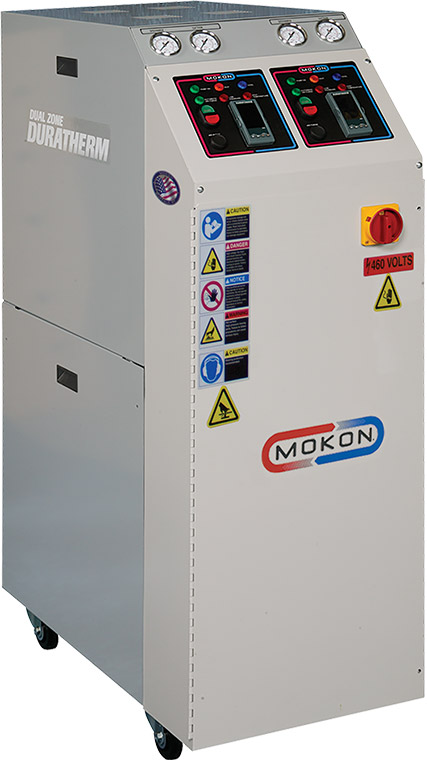 Mokon's Dual Zone Duratherm circulating water temperature control system provides two independent zones of control from one location in a sleek, vertical design without increasing the amount of floor space required for operation.
The Dual Zone Duratherm is built with an advanced heating canister design and nonferrous materials of construction which provide unsurpassed corrosion resistance, including a stainless steel pump, housing, impeller, and shaft. The number of piping connections is reduced to ensure leak-free operation.
All Duratherm systems come standard with a cULus 508A labeled electrical sub-panel. All these features and more, combined with our extended warranty, make the Duratherm an easy choice for delivering precise and accurate temperature control.
Dual zone configurations
Compact, portable design
Stainless steel pump, composite impeller and silicon-carbide seal
Horizontal stainless steel heater canister with unique turbulent flow diverter
Small hold-up volume and energy-efficient heater design
1/16 DIN non-proprietary microprocessor-based controller in easily accessible panel
Low pressure safety shut-off switch
Fluid high temperature safety shut-off switch
Pressure relief valve
Solenoid cooling valve
Cast brass fluid connections securely mounted to cabinet
Suction and discharge pressure gauges
Removable panel for easy access to heater
Heavy-duty removable casters for portability
Powder-coated finish
cULus 508A labeled electrical subpanel
Additional Features:
Small hold-up volume and energy-efficient heater design
Compact, sleek vertical design
Extended warranty:

3 years on system
5 years on microprocessor controller and safeties
Lifetime on seals, piping and canister
Unique stainless steel heating canister design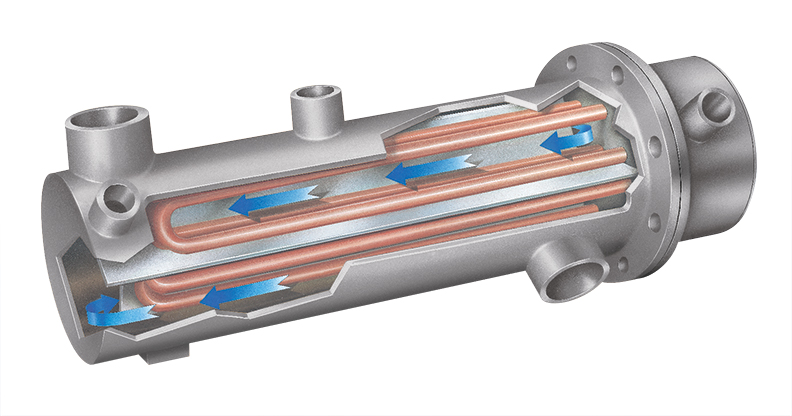 The Duratherm design features an advanced heating canister with stainless steel diverter, which generates a forced flow path over the heating elements for higher velocity and maximum turbulence - increasing heat transfer to improve efficiency and reduce scale build-up that can cause heater burn-out. This unique design provides customers unmatched control efficiency and accuracy, less down time and lower operating costs.
Alarms – audible and visual
Atmospheric and pressurized tanks
Closed loop circuitry
Common supply and drain connections
Control options – remote setpoint and re-transmission, communication ports
Cool down/automatic shut off via time delay relay
Cooling or chiller circuits
Door disconnect switch (standard on some models)
Emergency "crash" cooling control
Heat exchangers
Heat remover design
Magnetic drive pumps
Manifolds
Manual high/low heat selector switch (standard on some models)
Modulating valves
NEMA/Type 4, 4X, 7, 12 and X and Z purge designs
NFPA 79 electrical safety standards
Other voltages, phases, frequencies
Overhead piping kits
Power cord (standard on some models)
Pressure regulator
Process line fluid purge via air connection
Redundant heater contactor
Remote start/stop and control panels
Solid state contactors/relays and SCR
Stacking racks
Stainless steel cabinets, fluid circuits and components
TEFC motor
UL, CSA, CE and EAC certifications
Valve process bypass
Please consult factory for more information.
Features of Standard and Optional Controls
A variety of controls are available from Mokon to enhance the high performance of our systems. From solid state to microprocessor based, with communication capabilities to PLC type controls, Mokon can provide the type of control package right for your process.
Eurotherm 3216 Series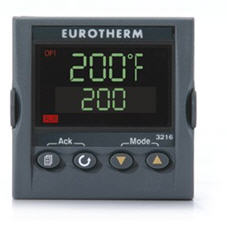 The Eurotherm 1/16 DIN (3216) microprocessor controller is operator friendly and easy-to-use. Standard features include a microprocessor PID controller for the highest accuracy in temperature control, a dual LCD display that shows set point and actual fluid temperature, and scrolling text messages that deliver plain language messages to let users know exactly what is happening to the process. There are optional 1/8 or 1/4 DIN controllers available, with high/low deviation alarm, remote set point and retransmission and serial communication. A five-year warranty comes standard with the controller.
Eurotherm 3216 Spec Sheet
Eurotherm 3200 Series Manual
Custom Controls
Mokon's ability to meet customers' specific requirements is seen not only in custom system designs, but also in controls. Our engineers can custom design a control package that meets your specific processing needs, from brand name controls, to direct computer/host machine interfacing. All of which can be expected with the same quality and durability that our customers expect from our complete line of temperature control systems.
Model
Pump
Flow Rate & Pressure
Heating Capacity
Process Connection
Supply/Drain Connection
Approx Dimensions
(L x W x H)
Shipping Weight (Approx. lbs.)
DZ
¾ Hp
25 GPM @ 25 PSI
9/18/24
1″ NPT
1″ NPT
33″ x 17″ x 52″
300
DY
1 ½ Hp
40 GPM @ 32 PSI
9/18/24
1-½″ NPT
1″ NPT
33″ x 17″ x 52″
320
DW
3 Hp
60 GPM @ 34 PSI
9/18/24
1-½″ NPT
1″ NPT
33″ x 17″ x 52″
340
DU
5 Hp
80 GPM @ 38 PSI
9/18/24
1-½″ NPT
1″ NPT
33″ x 17″ x 52″
360
DV
7 ½ Hp
100 GPM @ 40 PSI or 120 GPM @ 35 PSI
9/18/24
2″ NPT
1″ NPT
33″ x 17″ x 52″
490
Available in a variety of voltages and capacities. Contact Mokon for more information.