Full Range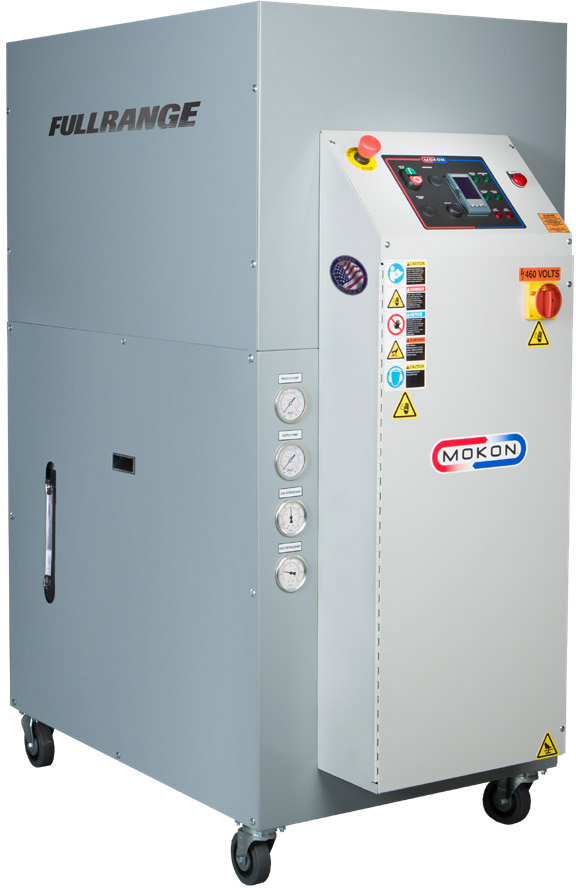 Mokon's water based Full Range temperature control system offers a combination heating and chilling system all in one package. A Mokon water system, combined with an Iceman chiller, integrates the benefits and features of both products into one compact, self-supporting unit. The Full Range system is available with heating capacities up to 96 kW and up to 60 Ton chilling capacities with a temperature range of -20°F to 380°F (-29°C to 193°C).
The Full Range system is ideal for the following applications:
Jacketed vessels and reactors
Laboratory, sanitary and chemical processes
Multi-zone processes
Processes requiring both heating and chilling and/or a wide variety of temperatures
Where water supplies are not accessible
Full Range systems are available in multiple sizes, configurations, and a variety of cooling, heating and pumping capacities, along with many options and accessories. In addition, Mokon can supply custom higher temperature systems up to 600°F (315°C). Please contact Mokon for more information.
Air-cooled or water-cooled condensing
Compact, portable design
Hermetically sealed reciprocating and scroll compressors, depending on tonnage
Green friendly refrigerant
Stainless steel centrifugal supply and process pumps
Horizontally mounted stainless steel heater canister and Incoloy® sheathed heating elements
Stainless steel flow diverter to increase fluid velocity and turbulent flow
Highly efficient brazed plate evaporator
Highly accurate hot gas bypass circuit
Low/high refrigerant gauges
Heavy-duty insulated plastic tank
Pilot light indication
CPR valve (up to 30 Tons)
Fluid level visible from outside of cabinet
Insulated nonferrous plumbing and components
1/8 DIN non-proprietary microprocessor-based controller for the chilled water loop and the heat transfer fluid process loop
High and low refrigerant pressure switches
Freeze stat protection
Flow switch
Filter dryer
Low pressure safety shut-off switch
Supply pump pressure gauge
Main power door disconnect
NEMA/Type 1 electrical enclosure
Heavy-duty casters for portability
Powder-coated cabinet
cULus 508A labeled electrical subpanel
Additional Features:
Warranty

1 year on system
3 years on custom controllers
5 years on microprocessor controllers
Air duct flange (top)
Air filters
Alarms - audible and visual
Automatic fill
Blown fuse indication
Communication options – Ethernet, Modbus, Profibus
Control options - remote setpoint and re-transmission, communication ports
Emergency stop
Filters/strainers
Flow meters
Heat exchangers
Heat remover designs
Heat transfer fluid based Full Range designs ranging from 50°F to 650°F
Low ambient kit
Low water level indication
Low/high refrigerant gauges
Manifolds
Modulating valves
NEMA 4, 4X, and 12
Oil Full Range designs ranging from 50°F to 650°F
Other voltages, phases, frequencies
Overhead piping kit
Phase indicator
Power cord
Pressure regulators
Process fluid purge (manual & automatic)
Pump modifications to increase flow capacity
Remote start/stop and control panels
Solid state contactors/relays
Special paint
Stainless steel cabinet
Strainers (process return)
Supply and return thermometers
Tank upgrades and modifications
TEFC pump motor
Timers
UL, CSA, CE and EAC certifications
Valved process bypass
Water filters
Please consult factory for more information.
Features of Standard and Optional Controls
A variety of controls are available from Mokon to enhance the high performance of our systems. From solid state to microprocessor based, with communication capabilities to PLC type controls, Mokon can provide the type of control package right for your process.
Eurotherm 3208 Series
The Eurotherm 1/8 DIN microprocessor controller is operator friendly and easy-to-use. Standard features include a microprocessor PID controller for the highest accuracy in temperature control, a dual LCD display that shows set point and actual fluid temperature, and scrolling text messages that deliver plain language messages to let users know exactly what is happening to the process. There are optional controllers available, with high/low deviation alarm, remote set point and retransmission and serial communication. A five-year warranty comes standard with the controller.
Eurotherm 3200 Series Manual
Custom Controls
Mokon's ability to meet customers' specific requirements is seen not only in custom system designs, but also in controls. Our engineers can custom design a control package that meets your specific processing needs, from brand name controls, to direct computer/host machine interfacing. All of which can be expected with the same quality and durability that our customers expect from our complete line of temperature control systems.
Cooling Capacity1
Air-Cooled (BTU/Hr) @ 50°F (10°C)
Water-Cooled (BTU/Hr) @ 50°F (10°C)
Compressor (Hp)4
Pump (Hp)
Max Flow Rate
Minimum Pressure
Process
Condenser Water-Cooled2 (FNPT)

Tank Size (gallons)

Approximate Dimensions
(L x W x H)3

Shipping Weight (Approx. lbs.)

15,800
16,700
1

Select a standard pump to meet process conditions or specify performance needs.
Hp
GPM
PSI
Process Connection (FNPT)
1/2
15
15
1″
3/4
25
26
1″
1
30
32
1½″
1½
40
32
1½″
2
50
32
1½″
3
60
34
1½″
5
80
38
1½″
7½
100
40
2″
7½
120
35
2″

½″
10
38"x25"x62"
480
34,100
35,300
3
½″
15
50"x28"x63"
610
56,100
58,100
5
1"
20
58"x37"x69"
715
96,872
100,236
7½
1½"
20
58"x37"x69"
990

112,354

116,516
10
1½"
20
58"x37"x69"
1,010
165,122
170,972
15
1½"
68
80"x52"x65"
1,850
226,800
234,800
20
1½"
68
80"x52"x65"
2,050
271,000
280,000
25
2"
100
142"x50"x80"
3,900
350,000
362,000
30
2"
100
142"x50"x80"
4,150
441,000
455,000
20/20
2"
100
200"x52"x85"
5,300
542,000
560,000
25/25
3"
150
200"x52"x85"
5,700
692,000
715,000
30/30
3"
150
200"x52"x52"
5,295
1. All chillers are based on chilled water at 2.4 GPM/Ton and 90°F (32°C) ambient air.
2. Water-Cooled chillers based on 85°F (29°C) condensing water at 3 GPM/Ton.
3. Water-Cooled chiller dimensions are the same or smaller than air-cooled models.
4. Scroll compressors except 1.0 Ton is Reciprocating.
Notes: Chart based on single zone with heating up to 24 kW, open circuit and 20°F to 200°F (-7°C to 93°C) fluid temperature range. Capacities will be reduced based on heating system motor Hp used. 60 Ton Air-Cooled system is a dual circuit with remote air-cooled condenser.