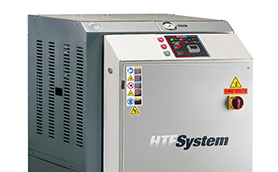 HTF NPS Series
Heat Transfer Oil Systems
Download Datasheet
Keeps Production Up and Running Even a minor circuit leak from stress cracks or bad O-rings can stop operations, but with the Mokon HTF NPS Series positive and negative pressure temperature control system, you can finish the production run without the nuisance of a leak or the costly interruption of a repair.
Versatile Whether your process requires positive pressure (no leaks present) or negative pressure (to stop a leak), HTF NPS Series provides the most efficient means of temperature control. By incorporationg a venturi jet pump and a uniquely designed reservoir, you are provided with a self-supporting means of accurate temperature control up to 400°F (204°C) in a positive or negative pressure condition.
Easy to Use Designed to be used in the same manner as our Duratherm NPS water system, the system requires no special piping, hoses or utilities. By simply moving a three-way flow control valve on the back of the cabinet, the system is changed from a positive pressure to a negative pressure system in an instant. The system's reservoir acts as a fluid supply source and air separation device, making the venting of the system automatic.
Easily removable cabinet panels provide access to internal components, making routine maintenance and adjustments simple and fast.
Request for Quote?

All of our products can be customized.
Start Here
Hp
Flow Rate & Pressure
Connections
# of Zones
Heating Capacity (kW)
Reservoir Tank Volume (gallons)
Cabinet Dimensions (L x W x H)
5
10 GPM and
up to 60 psi
3/4" process oil
1" cooling water
1
12, 24, 36
38
41" x 30" x 51"
5
10 GPM and
up to 60 psi
3/4" process oil
1" cooling water
1
48
38
41" x 30" x 62"
5
20 GPM and
up to 50 psi
1" process oil
1" cooling water
1
12, 24, 36
38
41" x 30" x 51"
5
20 GPM and
up to 50 psi
1" process oil
1" cooling water
1
48
38
41" x 30" x 62"
Higher kW capacities and a variety of voltages are available. Please contact Mokon for more information.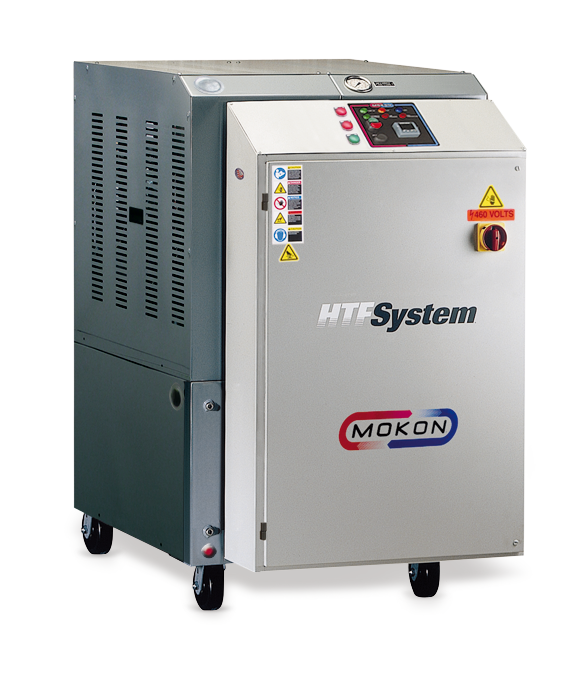 Up to 400°F (204°C)
System reservoir - fluid supply source and air separation device
Microprocessor-based PID controller mounted in operator-friendly orientation
Standard safety features include level switch and high temperature switch
Horizontal low watt density heaters
Glycerin filled pressure gauge
Powder-coated steel cabinet for protection and durability
Three-way flow control valve to adjust system from positive pressure to negative pressure
Venturi jet pump
Vertical stainless steel seal-less pump
NFPA 79 electrical safety standards
cULus 508A labeled electrical sub-panel
Sleek, vertical design
Warranty

1 year on system
1 year on solid state controllers
3 years on custom controllers
5 years on microprocessor controllers and safeties
"Negative" Benefits
Being negative isn't always a bad thing.
With Mokon's HTF NPS Series, negative pressure creates a vacuum, essentially pulling air and oil out of the mold instead of pushing it through the system. There are many benefits with this method, including:
Repairs can be deferred until a more convenient time.
The risk of hot fluid spray is reduced, improving worker safety.
Less downtime means manpower and equipment are maximized, increasing productivity.
* Please consult factory for more information.
Additional cooling capacity
Alarms - audible and visual
Auto air purge
Blown fuse indication
Control options - remote setpoint and re-transmission, communication ports, and much more
Heat exchanger flow control system
Heater selector switch (automatic)
Heater selector switch (manual)
High-Temperature stainless steel braided hose
Low fluid level shut-off
Other voltages, phases, frequencies
Phase indicator
Process fluid purge via switch
Strainers
Thermometers
Features of Standard and Optional Controls
A variety of controls are available from Mokon to enhance the high performance of our systems. From solid state to microprocessor based, with communication capabilities to PLC type controls, Mokon can provide the type of control package right for your process.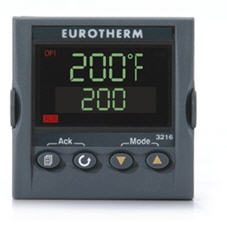 Eurotherm 3216 Series
The Eurotherm 1/16 DIN (3216) microprocessor controller is operator friendly and easy-to-use. Standard features include a microprocessor PID controller for the highest accuracy in temperature control, a dual LCD display that shows set point and actual fluid temperature, and scrolling text messages that deliver plain language messages to let users know exactly what is happening to the process. There are optional 1/8 or 1/4 DIN controllers available, with high/low deviation alarm, remote set point and retransmission and serial communication. A five-year warranty comes standard with the controller.
Eurotherm 3216 Spec Sheet
Eurotherm 3200 Series Manual
Custom Controls
Mokon's ability to meet customers' specific requirements is seen not only in custom system designs, but also in controls. Our engineers can custom design a control package that meets your specific processing needs, from brand name controls, to direct computer/host machine interfacing. All of which can be expected with the same quality and durability that our customers expect from our complete line of temperature control systems.