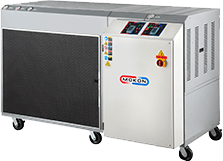 Full Range
Heat Transfer Oil Systems
Download Datasheet
Mokon's heat transfer fluid based Full Range temperature control system offers a combination heating and cooling system all in one package. A Mokon heat transfer fluid system, combined with an Iceman chiller, integrates the benefits and features of both products into one compact, self-supporting unit.
The Full Range system is ideal for jacketed vessels, mixers and reactors; multi-zone processes; installations where rapid cooling is required; and laboratory, sanitary and chemical process applications.
Our heat transfer fluid based Full Range system features the folllowing:
Heating capacities up to 48 kW
Pumping capacities up to 30 GPM
Various temperatures from a minimum of 50°F (10°C) to a maximum of 650°F (343°C)
Rapid cool down capabilities
NEMA rated electrical enclosure
UL 508A labeled electrical sub-panel
Meets NFPA 79 electrical safety standards
Request for Quote?

All of our products can be customized.
Start Here
Positive displacement pump/motor
Insulated heater bundle
NEMA rated electrical enclosure with main disconnect switch
Microprocessor-based controller
Glycerin-filled pressure gauges
Air-cooled condenser (shown) or water-cooled condenser
Heavy-duty insulated plastic tank
Heavy-duty braking casters
Scroll compressor
Cooling heat exchanger
Continuous flow cool oil reservoir
Recirculating pump
Additional Features:
NFPA 79 electrical safety standards
UL 508A labeled electrical sub-panel
Combination heating and cooling in a self-supporting system
Warranty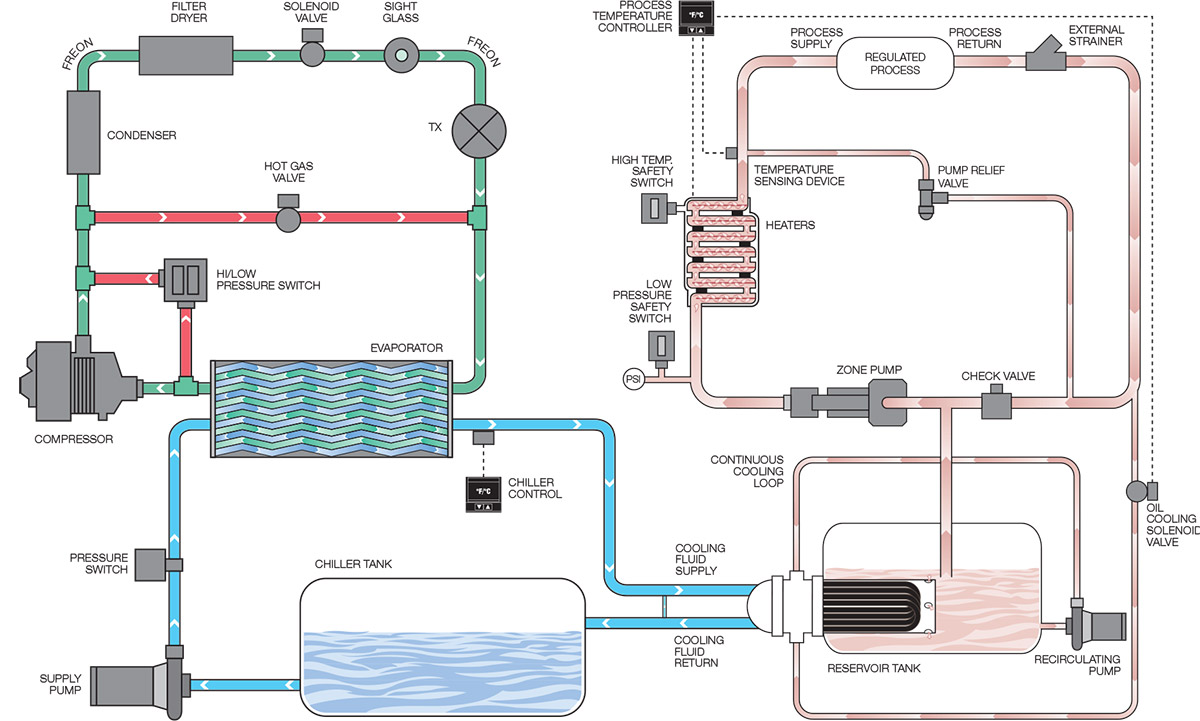 * Please consult factory for more information.
Additional cooling capacity
Alarms - audible and visual
Auto air purge
Blown fuse indication
Control options - remote setpoint and re-transmission, communication ports, and much more
Heat exchanger flow control system
Heater selector switch (automatic)
Heater selector switch (manual)
High-temperature stainless steel braided hose
Low fluid level shut-off
Other voltages, phases, frequencies
Phase indicator
Process fluid purge via switch
Strainers
Thermometers
Features of Standard and Optional Controls
A variety of controls are available from Mokon to enhance the high performance of our systems. From solid state to microprocessor based, with communication capabilities to PLC type controls, Mokon can provide the type of control package right for your process.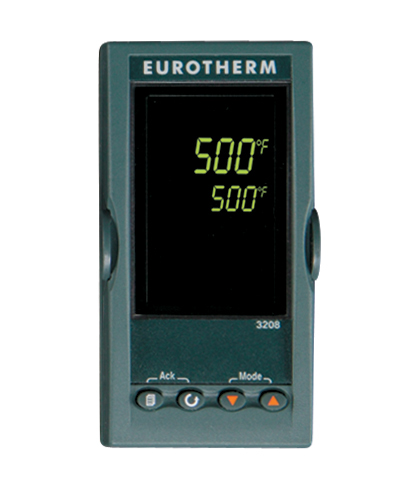 Eurotherm 3200 Series
The Eurotherm 1/8 DIN microprocessor controller is operator friendly and easy-to-use. Standard features include a microprocessor PID controller for the highest accuracy in temperature control, a dual LCD display that shows set point and actual fluid temperature, and scrolling text messages that deliver plain language messages to let users know exactly what is happening to the process. There are optional controllers available, with high/low deviation alarm, remote set point and retransmission and serial communication. A five-year warranty comes standard with the controller.
Eurotherm 3200 Series Manual
Custom Controls
Mokon's ability to meet customers' specific requirements is seen not only in custom system designs, but also in controls. Our engineers can custom design a control package that meets your specific processing needs, from brand name controls, to direct computer/host machine interfacing. All of which can be expected with the same quality and durability that our customers expect from our complete line of temperature control systems.