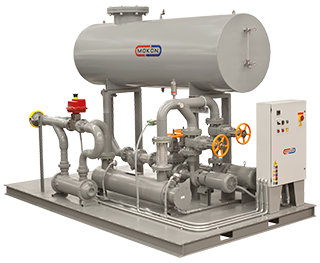 Engineered Oil Systems
Download Datasheet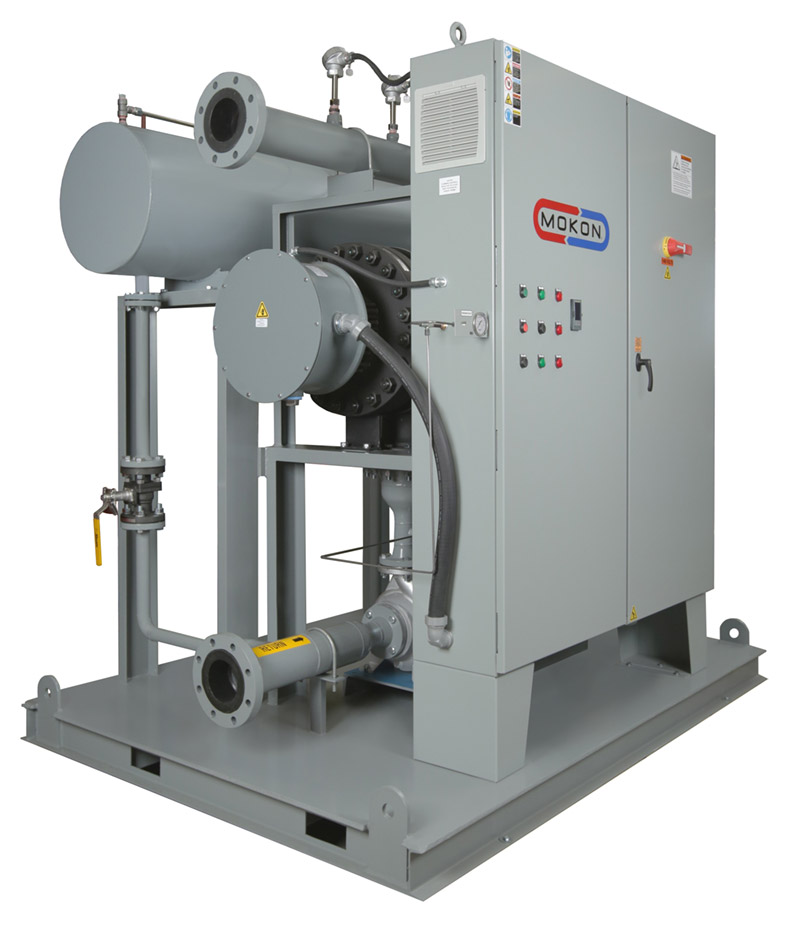 Calendering/Roll Application
Oil recirculating skid system with 34 Hp centrifugal pump providing 375 GPM flow at 80 PSI with 120 kW heating capacity. 117-gallon oil reservoir, SCR power series solid-state heater contactor, Eurotherm PID temperature controller with 400°F (204°C) set point.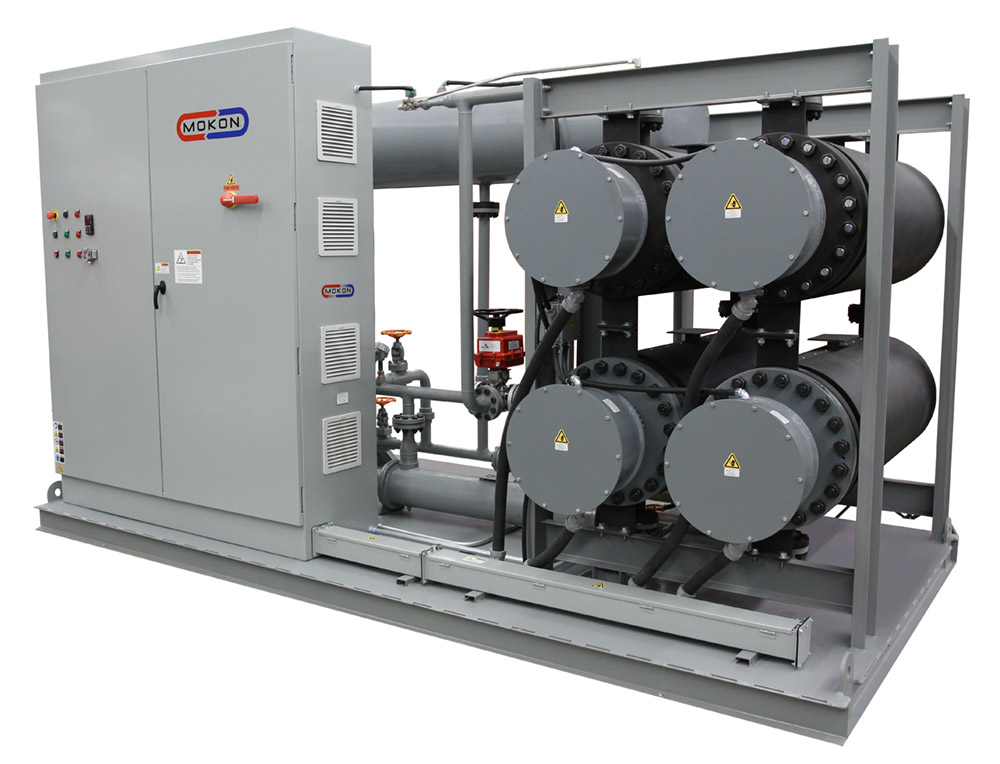 Composites Application
Oil recirculating skid system with 500 kW (4 each 125 kW heaters), 5 Hp motor, 60 GPM at 30 PSI, NEMA 12 local control cabinet, Watlow PID cascade controller with remote setpoint and retransmission and a 350 kW cooling heat exchanger.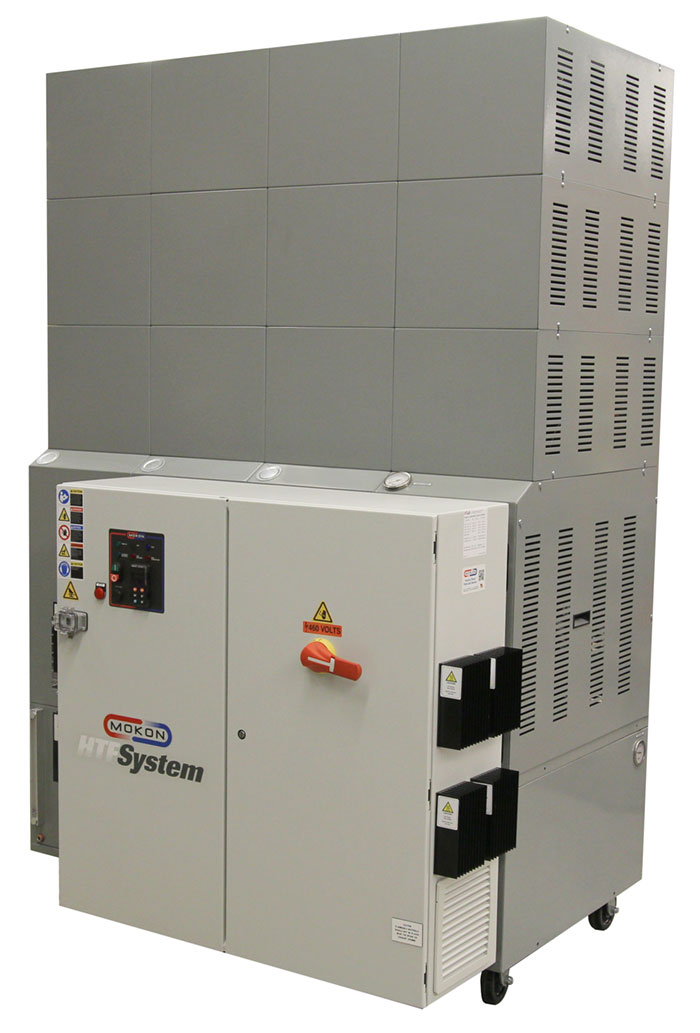 Chemical Application
HTF HF-2 heat transfer oil system with 192 kW heating capacity, 5 Hp motor, one zone of control, 460 Volt electrical service. Maximum operating temperature 500°F (260°C). Watlow DIN-A-MITE SCR's with PM control and Ethernet connection. Additional 21 sq. ft. heat exchanger in Mokon cool oil reservoir.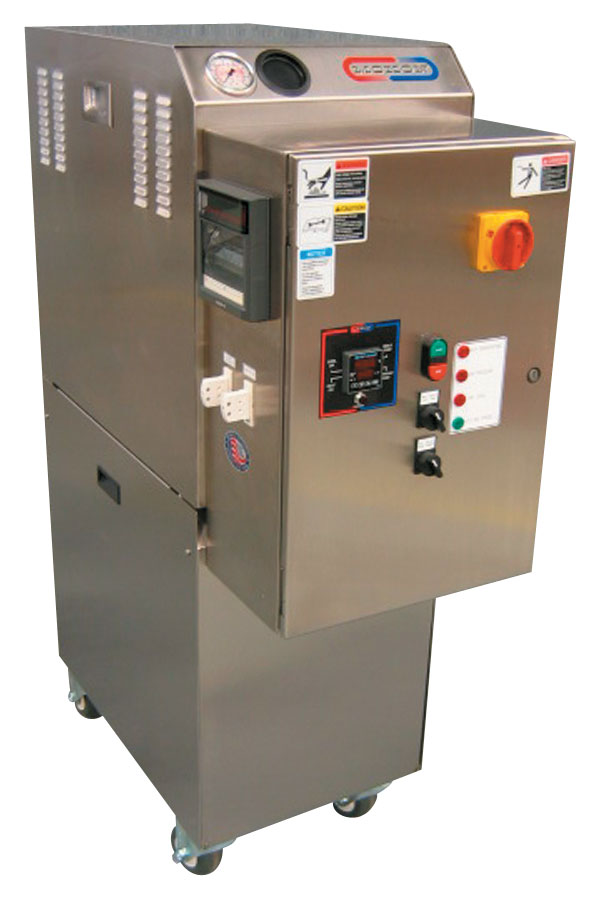 Pharmaceutical Application
Closed-circuit liquid temperature control system with NEMA 4X stainless steel cabinet. System contains one zone, 18 kW process heaters, 2-pen temperature chart recorder, 5 gallon SS tank, and a 9 sq. ft. heat exchanger.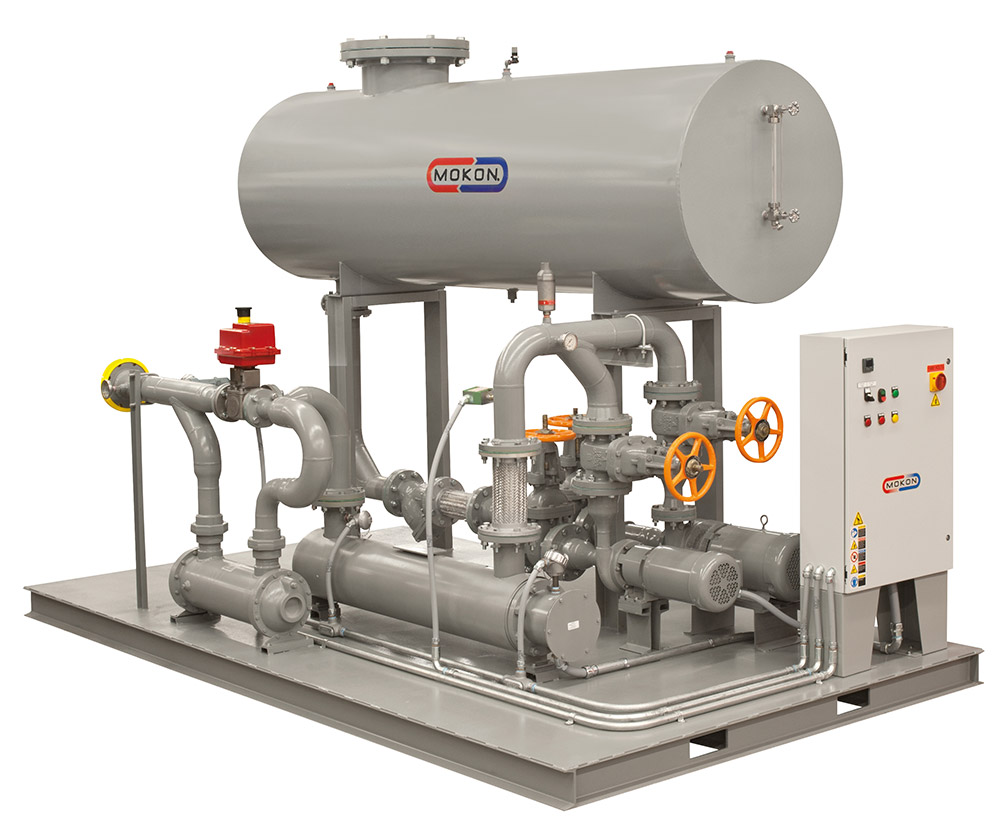 Energy Industry
Oil liquid temperature control and flow regulation of five zones for a gas industrial cooling application. NEMA 12 temperature control system with 270 GPM flow, 20 PSI pressure, 36 kW process heaters, expansion tank, and modulating 3-way cooling valve.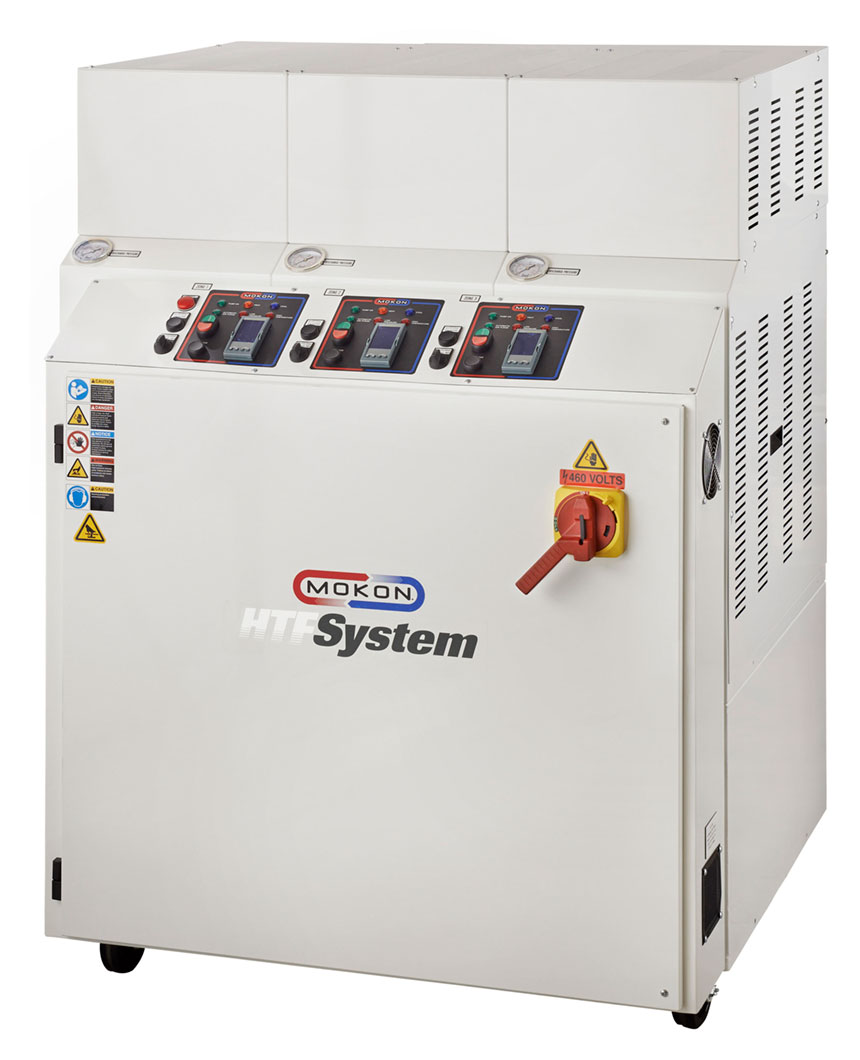 Automotive Industry
Mokon 3-zone portable heat transfer fluid temperature control system engineered for mold temperature control with temperatures up to 500°F (260°C). Each zone has 36 kW process heaters and remote set point retransmission control feature for PLC control.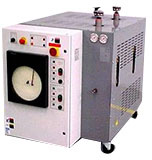 Custom Automotive Test System
Special two-zone heat transfer fluid system used for engine test stand to heat and cool motor oil in one zone with chart recorder.
Mokon's innovative heating and cooling systems meet the requirements of both composite manufacturers and end users for product consistency, accuracy, and quality.
Chemical processors require precise, stable fluid temperature control - or otherwise risk lost batches, unmet deadlines or high costs for waste disposal. We offer corrosion-resistant materials that can withstand frequent wash downs and exposure to hazardous atmospheres.
Our engineers have the experience in sizing and constructing quality temperature control systems to meet the extreme thermal dynamics of die casting applications.
Whether it's extruding chocolate, mixing dough or fermenting wine, the food and beverage processing industry requires precise temperature control for its manufacturing processes. With a variety of systems, plus expertise in customization, Mokon can meet the needs of any food or beverage company.
To meet the demanding needs of the pet food industry, Mokon offers a wide range of high-performance process temperature control equipment. Our expertise includes NEMA 4X rated panels, stainless steel and wash down construction, food-grade heat exchangers and much more.
The pharmaceutical and medical industries require precise process fluid temperature control. Mokon's innovative line of process heating and cooling systems meet those demands. Our expertise includes stainless steel cabinets, 3-A heat exchangers, NEMA 4X rated panels and much more.
The plastics industry is the third-largest manufacturing industry in the U.S. To keep up with increasing demand, Mokon's expert engineers have developed process heating and cooling equipment that regulates molds, dies and polymer temperatures to ensure effective control.
Custom Systems Designed and Built to Customer Specifications / Made in the USA
Mokon can assist with:
Heating and cooling load calculations and sizing
Recommending system design and features
Sizing and selection of heat exchangers
Customizing a control solution for your specific application
Fluid selection
Customer startup and training assistance
Certifications/Capabilities
UL, CE, CSA, EAC, RAC, NFPA, NEMA and ASME designs
NEMA rated panels — 1, 3, 4, 4X, 7, 12
Clean room and wash down designs
Sanitary environments
Class I Div. I and Div. II hazardous location areas
ISO 9001:2015 and ISO 14001:2015
Electrical and Control
Variety of voltages up to 600 Volt, 1 or 3 Phase, 50 or 60 Hertz
Communication options available
Remote set point and re-transmission controllers and communication features
Remote interface electrical enclosures
Audible and visual alarms
SCR and solid state relays
Single point utility connections
Range of Capacities and Designs
Increased fluid flow, heating and cooling capacities
Heat exchangers and heat remover designs
Closed and open loop circuitry
Single and multi-zone circuits
Portable or stationary designs
Pressurized and non-pressurized open tanks
Indoor or outdoor designs
Variety of Construction Materials and Components
Stainless steel construction, painted steel, and non-metallic
Custom paint specifications
Sealed reservoirs
Welded or silver brazed joints
TEFC motors and magnetic drive seal-less pumps
Tri-clamp and flanged connections
Food-grade heat exchangers and acceptable cabinetry
Non-marring casters and leveling legs