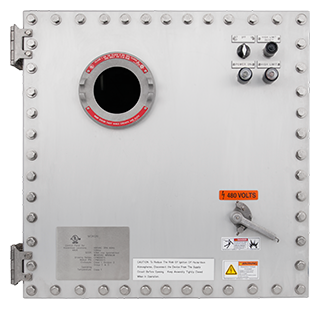 Engineered Power & Process Control Panels
Download Datasheet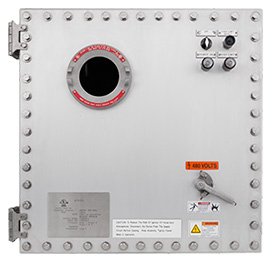 Hazardous Area Control Panel
UL Approved control panel located in a hazardous location — Class I, Division II, Group C/D controlling process heaters. Panel has 460 Volt 3 Phase main circuit breaker, single zone, and viewing window for sub-panel mounted electronic control.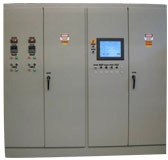 Engineered Control Panel
Custom four door multi-circuit 460 Volt 3 Phase free-standing panel with electronic indicating PID controllers and large screen display.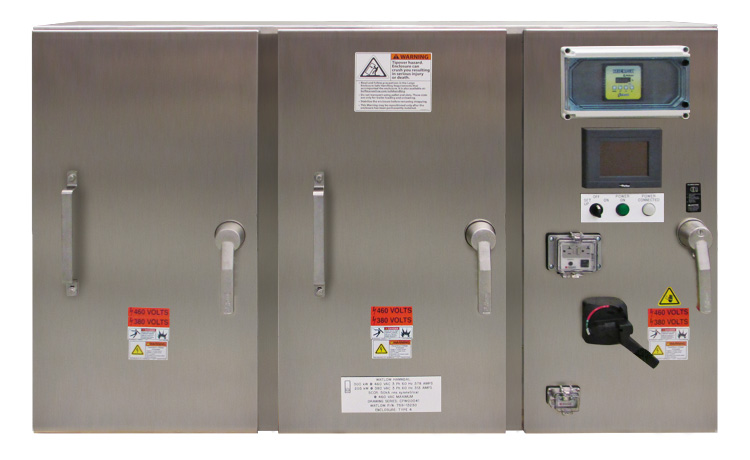 Outdoor Control Panel
Outdoor 300 kW NEMA/Type 4X stainless steel enclosure with 2 removable doors, 600 amp fused disconnect, 8 circuits with SCR control, PLC touch screen and oxygen analyzer & sensor.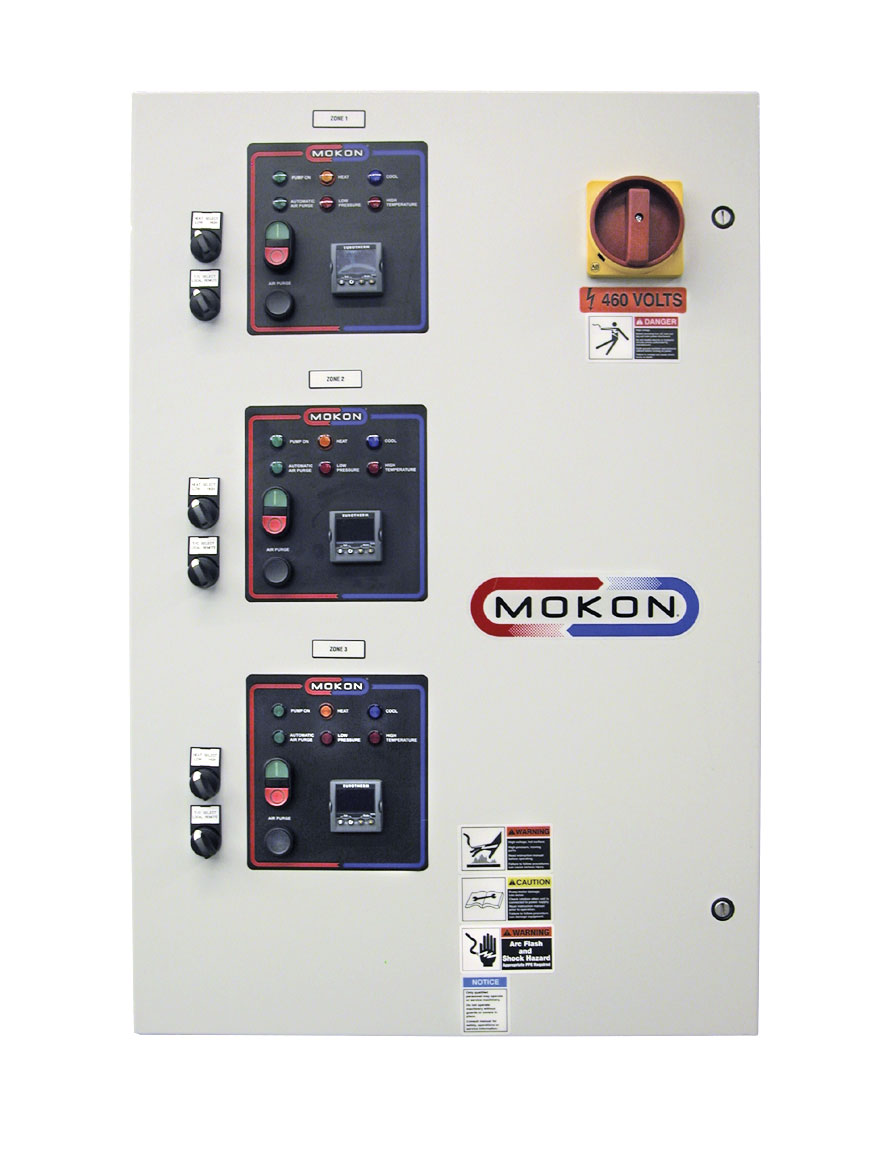 Multi-Zone Process Control Heating Control Panel
3 Zone UL 508A Approved electrical control panel for process heating temperature control. The panel has a main door disconnect and each circuit has an electronic PID digital control with high limit safety and fused control circuit.
Conveyer Jacket Heater Control Panel
NEMA/Type rated UL 508A Approved electrical control panel for process heating temperature control. Mokon panel has 460 Volt 3 Phase main power disconnect, electronic PID digital control, high temperature limit, and fused control circuit.
Mokon's innovative heating and cooling systems meet the requirements of both composite manufacturers and end users for product consistency, accuracy, and quality.
Chemical processors require precise, stable fluid temperature control - or otherwise risk lost batches, unmet deadlines or high costs for waste disposal. We offer corrosion-resistant materials that can withstand frequent wash downs and exposure to hazardous atmospheres.
Our engineers have the experience in sizing and constructing quality temperature control systems to meet the extreme thermal dynamics of die casting applications.
Whether it's extruding chocolate, mixing dough or fermenting wine, the food and beverage processing industry requires precise temperature control for its manufacturing processes. With a variety of systems, plus expertise in customization, Mokon can meet the needs of any food or beverage company.
To meet the demanding needs of the pet food industry, Mokon offers a wide range of high-performance process temperature control equipment. Our expertise includes NEMA 4X rated panels, stainless steel and wash down construction, food-grade heat exchangers and much more.
The pharmaceutical and medical industries require precise process fluid temperature control. Mokon's innovative line of process heating and cooling systems meet those demands. Our expertise includes stainless steel cabinets, 3-A heat exchangers, NEMA 4X rated panels and much more.
The plastics industry is the third-largest manufacturing industry in the U.S. To keep up with increasing demand, Mokon's expert engineers have developed process heating and cooling equipment that regulates molds, dies and polymer temperatures to ensure effective control.
Power and Process Control Systems for Commercial and Industrial Applications
Enclosures/Cabinetry
NEMA/Type 1, 3, 4, 4X, 7 and 12 rated enclosures
UL 508A Certification — Open and Enclosed Types
UL NRBx Certification — Intrinsically Safe Designs
UL NNNY Certification — Hazardous Location Designs
Explosion proof "X" and "Z" purge systems
Wash down designs with stainless steel enclosures
Customized cabinetry and colors
Electrical enclosure ventilation fans with filtration
Special dimensional requirements
OEM specified construction materials
Typical Components
Primary voltages from 120 Volt to 600 Volt
Secondary voltages include 24V, 120V, 208V and 240V
Single or three phase circuits
Fused and unfused disconnects — through-the-door and flange mounted
Circuit breakers
Power distribution blocks
SCRs, VFDs and PLC interfacing
Redundant heater contactors
Push to test lights and buttons
Allen Bradley flex I/O capabilities
Stacking lights
AB "PICO" relay saving devices
Cubed fusing
Terminal blocks for customer interfacing
Panel heaters and coolers
Control Features
Various communication capabilities
Linear: 0-5V, 0-10V, 4-20mA
Serial: RS485, RS232
Modbus, Profibus, Ethernet
Alarm capabilities
Programmable logic controllers
Customer preferred controls