Blown Film Cooler Series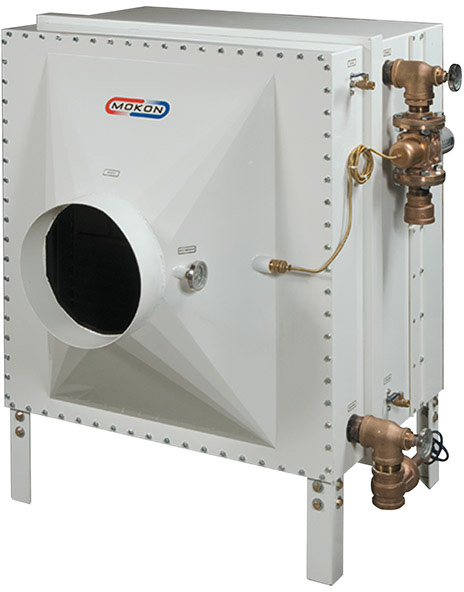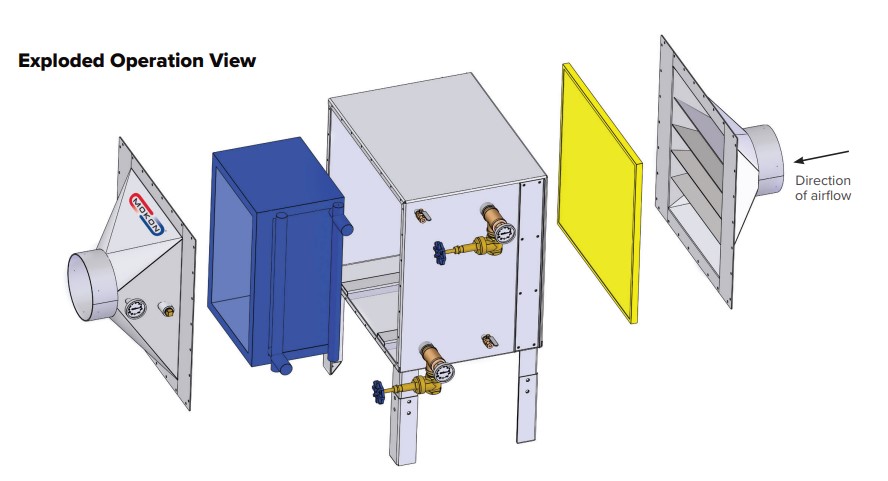 Mokon's BFC Series blown film air coolers offer an increase in blown film activity, especially in warmer climates or when ambient air temperatures rise during the summer. The BFC Series boosts productivity by eliminating production variables in your air ring supply, including air temperature, pressure, and volume.
The BFC units typically use a modulated chilled water supply to provide a constant leaving air temperature to the process. The air inlet diffuser assures that the air stream covers the full face of the cooling coil to provide optimum cooling efficiency. The leaving air chamber is insulated to reduce condensation while providing the coldest air possible to the air ring.
Nonferrous wetted surfaces
Insulated powder coated internal and external heavy gauge steel cabinet
Zinc plated bolts spaced for 35″ static pressure
Permanent cleanable filter
Discharge air temperature gauge
Drip condensate trap
Coil air vent
Entering air diffuser
Adjustable bolt-on support legs
Dial thermometers for chilled water inlet, chilled water outlet, and leaving air
Chilled water flow control ball valves
Warranty
1 year warranty on system
Lifetime on cabinet
Custom air inlet/out transitions
Custom painted colors
5°F (-15°C) approach coil
Other voltages, phase, frequencies
Stackable designs
Static pressure blower with controls
Two or three-way modulating valves
Please consult factory for more information.
Model
Process Air CFM
BTU/Hr of Heat Removal1
Nominal Cooling Required (Tons)2
BFC-600
600
64,512
5.5
13
1″
10/10
3
7.5
47″ x 32″ x 47″
400
690
790
BFC-1000
1000
105,855
9.0
26
1 1/2″
10/10
5
10
47″ x 32″ x 47″
430
705
830
BFC-1500
1500
158,861
13.5
40
2″
14/14
7.5
15
47″ x 38″ x 51″
645
985
1215
BFC-2000
2000
211,775
18.0
59
2″
14/14
10
20
47″ x 38″ x 51″
700
1050
1325
BFC-3500
3500
370,470
31.0
81
2 1/2″
16/16
15
40
60″ x 45″ x 74″
1100
1580
2035
BFC-5000
5000
532,210
44.5
112
2 1/2″
18/18
25
60
70″ x 64″ x 75″
1600
2375
2575
BFC-7500
7500
793,760
66.0
126
3″
22/22
40
75
70″ x 73″ x 84″
1800
2575
3800
BFC-9000
9000
953,541
80.0
175
3″
24/24
40
75
70″ x 73″ x 84″
2000
3075
4300
Based on 50°F (10°C) leaving air from cooler, 80°F (27°C) wet bulb ambient air temp, 40°F (4°C) entering chilled water and required CFM of process air.
Note: Heat removal value does not include heat contributed by the blower
Chilled water Tons required with entering air at 100°F (38°C) dry bulb, 80°F (27°C) wet bulb, 40°F (4°C) chilled water and 50°F (10°C) leaving air.
Blower at 460 Volt, 3 Phase, 60 Hertz