Process Control Solutions
Download our informational food processing flyer.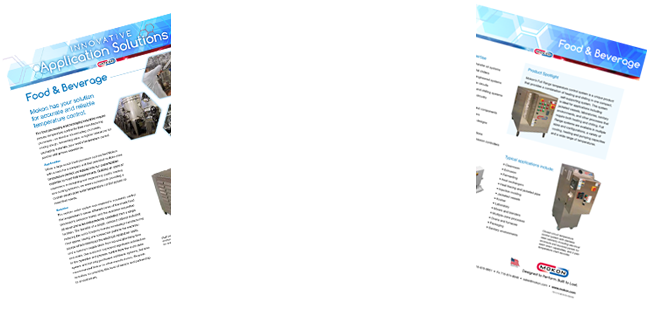 Quality Process Heating and Cooling Systems for the Food Industry.
To meet the demanding needs of the food processing industry, Mokon offers a wide range of high-performance process temperature control equipment for applications ranging from -20°F to 700°F (-29°C to 371°C).
For over 60 years, Mokon has designed and manufactured high-quality systems including water and oil heating systems, portable and central chillers, combination heating/chilling assemblies, and custom/engineered designs.
Mokon is an ISO 9001:2015 and ISO 14001:2015 certified company and can provide UL, CE, CSA, NFPA, NEMA, and ASME designs to meet your needs. Made in the USA 60 years and counting.
Applications Include:
Cannabis and Hemp Extraction and Distillation
Cleanroom and Sanitary Environments
Extrusion
Heat Exchangers
Injection Molding
Jacketed Pipe, Vessels, Mixers and Blenders
Laboratory
Ovens and Chambers
Watch Our Video: See why some of the most respected brands in the world choose Mokon.
Expertise:
NEMA 4X rated panels
Stainless steel and wash down construction
Food-grade heat exchangers
Local and remote control functions
Clean room designs ... And much more!