Dryer Application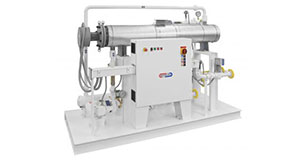 Water/glycol heat transfer system for heating and cooling of a pressure filter dryer. 100 kW process heaters, 40 PSI, 70 GPM, ASME section VIII code stamped heater and heat exchanger, NEMA 12 electrical, and modulating cooling control.
Chemical Application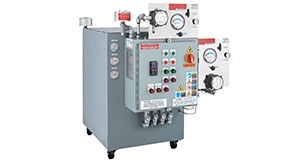 Explosion proof system suitable for installation in Class 1, Division 2, Group C and D area. Two Z purge systems, one for electrical enclosure, the other for mechanical cabinet. All exposed electrical components are suitable for use in hazardous area.
Rubber Mixing Application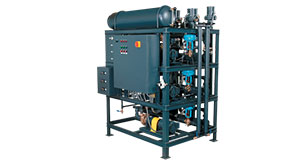 3-zone water Mokon temperature control unit engineered to customer specifications with 135 kW process heaters, heat exchangers, air driven industrial cooling valves, 40 gallon tank, all welded frame mounted construction, and custom paint specifications.
Converting Application
Skid-mounted water temperature control system for a converting line. NEMA 12 electrical components, surfaces custom painted, and 3 zones of 18 kW process heaters up to 60 PSI. Two zones with 600 GPM each; third zone 400 GPM.
Pharmaceutical Application
Custom water temperature control system for a 2,000 gallon stainless jacketed vessel. The Mokon system contains 500 kW of heating capacity via one ASME pressure rated vessel and has the ability to pump 100 GPM and up to 40 PSI.
Web Film Application
Industrial cooling and process heating skid-mounted water temperature control system with heat exchanger loop, pump and expansion tank. Liquid temperature control features nine zones - 4 zones 9 kW each, 3 zones 18 kW each, and two cooling zones.
Energy Industry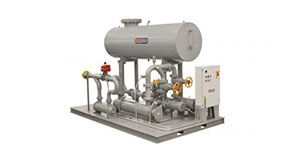 Oil liquid temperature control and flow regulation of five zones for a gas industrial cooling application. NEMA 12 temperature control system with 270 GPM flow, 20 PSI pressure, 36 kW process heaters, expansion tank, and modulating 3-way cooling valve.
Calendar / Roll Heat Remover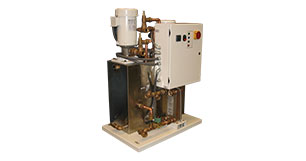 Mokon heat remover water temperature control unit for industrial cooling application, Zone 1: 18 GPM at 96 PSI, Zone 2: 12 GPM at 51 PSI. System includes NEMA 12 control panel, open base, vertical pumps, heat exchanger and stainless steel tank.
Automotive Industry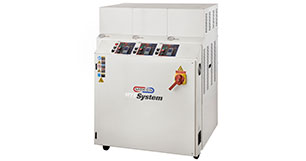 Mokon 3-zone portable heat transfer fluid temperature control system engineered for mold temperature control with temperatures up to 500°F (260°C). Each zone has 36 kW process heaters and remote set point retransmission control feature for PLC control.
PET Plastic Application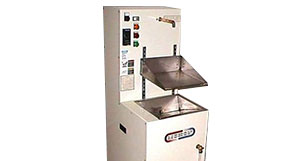 Special water system designed to assist testing integrity of PET bottles. Built-in fill expansion tank and document shelf.
Custom Automotive Test System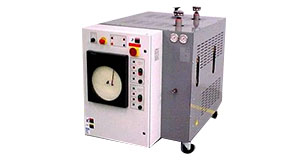 Special two-zone heat transfer fluid system used for engine test stand to heat and cool motor oil in one zone with chart recorder.
High Temperature Pressure System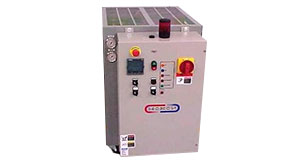 Custom high temperature (300°F/149°C) and high pressure water system with customer specified components including: auto cool down, high/low heat, emergency "E" stop, audible and visual alarms.
Chemical Mixing Application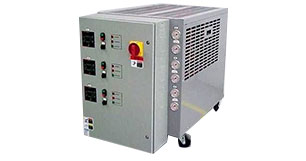 Mokon three zone high temperature water system in common portable cabinet. Each circuit rated 575 Volt 3 Phase 12 kW with all stainless steel wetted surfaces.