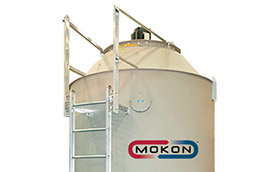 Cooling Towers
Centralized Cooling Systems
Download Datasheet
Every Mokon water cooling tower is designed with the latest technology to reduce your operating costs while providing an energy-efficient and reliable source of cooling water for plant-wide applications. Two types of cooling towers are offered, constructed of either state-of-the-art HDPE plastic or rugged galvanized steel.
Our high-density polyethylene cooling towers include forced-draft (up to 100 Tons) or induced-draft (55 Tons and larger) designs. Both designs offer efficient means of cooling that require minimal space and reduced maintenance. The PVC water distribution system and fill material provide even distribution of water and high-efficiency cooling while extending the life of the components due to their noncorrosive nature.
Energy-efficient galvanized cooling towers from Mokon feature an induced-draft, cross-flow design (8 Tons and larger), saving on fan and pump power. These towers feature a water distribution system, which utilizes gravity flow for energy savings and a unique nozzle design for precise distribution over the PVC film fill.
When you're ready for an efficient cooling tower solution, call Mokon!
Request for Quote?

All of our products can be customized.
Start Here
High-Density Polyethylene Water Cooling Towers
One-piece HDPE shell – lightweight yet durable with corrosion-proof construction
Forced-draft counter-flow design (up to 100 Tons)
Induced-draft counter-flow design (55 Tons and larger)
Shell will never rust, flake, chip, peel, or ever need painting or protective coatings applied
Totally seamless – leak-less operation
Low maintenance – no gear reducers, couplings, additional shafts or extra bearings to maintain
Air moving system
Leak-proof sump with no joints
Drift eliminators to prevent water droplets from leaving tower
PVC water distribution system with nonclog, large orifice removable nozzles
Forward curved centrifugal blower with totally enclosed motor
Blower hood, which provides additional protection from elements and for sound attenuation to further dampen sound levels
Blower thermostat, one stage which provides on/off control of fan motor
Easy connection – single point inlet water connection
Factory assembled and lightweight for easy installation
15-year warranty on structural shell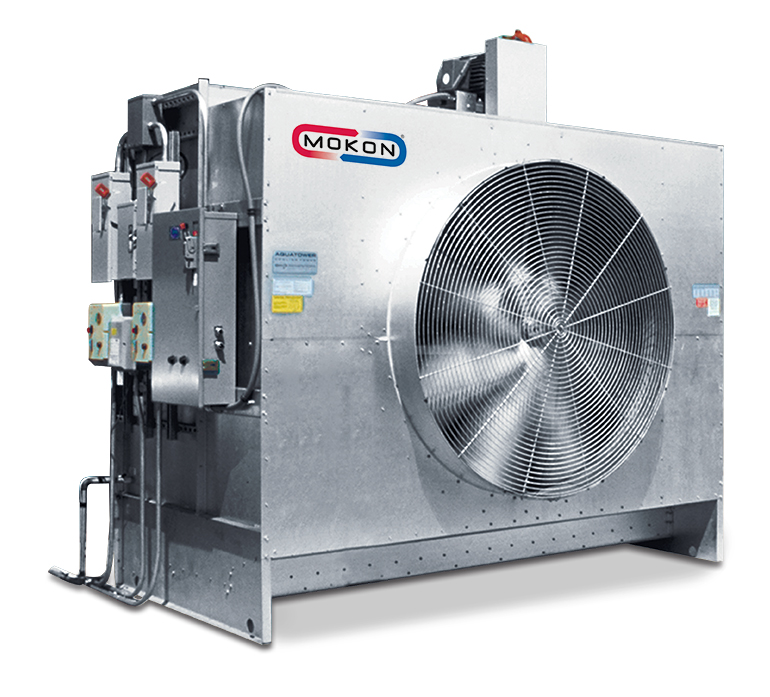 Galvanized Water Cooling Towers
G-235 galvanized steel structure and framework offer corrosion-proof construction
Induced-draft cross-flow design saves fan power and avoids water leaks of forced-draft designs for high efficiency cooling (8 Tons and larger)
PVC fill – immune to biological and corrosion decay
Clog resistant, gravity flow spiral target nozzles for uniform water distribution over fill
TEFC fan motor
Hot water distribution basin with removable covers as standard – keeps basin free from carbon debris
Cold water collection basin
Equipment supports
Casing and fan cylinder
Drift eliminators and louvers to prevent water droplets from leaving the tower
Standard features of galvanized steel collection basin include screened suction connection, a threaded overflow connection, a threaded and plugged drain connection and a float operated make-up valve
All-season reliability – fan operates in warm atmosphere even in dead of winter (can operate virtually ice-free)
Factory assembled for easy installation
Multi-year warranty
Please contact Mokon for more information.
Please contact Mokon for more information.