Precise Process Control
Learn about our pharmaceutical application solutions.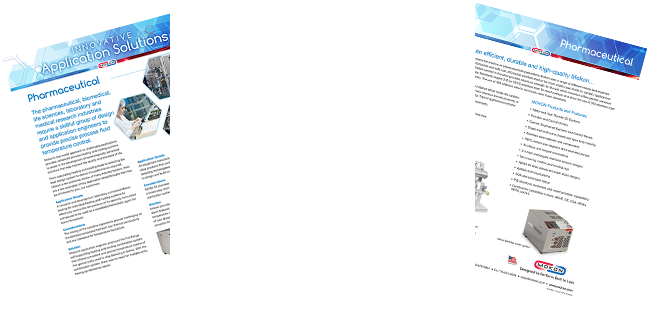 Innovative Application Solutions.
Life-Changing Results.
Pharmaceutical, medical, biomedical, and industrial hemp extraction and distillation manufacturing requires precise process fluid temperature control. Mokon works to create heating and cooling process solutions to assist in the development of technologically advanced products.
How? Our experienced application and engineering teams work direct with customers in selecting the best design that delivers the required performance. Mokon can meet all of your needs with our full line of products ranging from -20°F to 700°F (-29°C to 371°C). Our high-quality products ensure safe and accurate process control every time.
Mokon is an ISO 9001:2015 and ISO 14001:2015 certified company and can provide UL, CE, CSA, NFPA, NEMA and ASME designs to meet your needs. Made in the USA for over 65 years.
Applications Include:
Cleanroom and Sanitary Environments
Mixers and Blenders
Reactors, Sterilizers and Fermentors
Vessels and Tanks
Extraction/Distillation
Extrusion
Injection Molding
Heat Exchangers
Watch Our Video: See how our engineering expertise is built into every Mokon product.
Expertise:
Water and Heat Transfer Oil Systems
Portable and Central Chillers
Custom Engineered Systems and Control Panels
Stainless steel cabinets and components
3-A heat exchangers and heat remover designs
NEMA 4X rated panels and wash down designs