Press Releases
Mokon Expands Iceman Chiller Line up to 50 Tons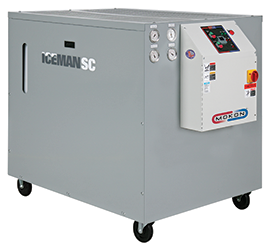 BUFFALO, N.Y. (February 23, 2018) — Mokon, an international leader in high-quality circulating liquid temperature control systems, is pleased to announce the expansion of its line of Iceman SC Series portable chillers up to 50 Tons.
"The addition of the 50 Ton chiller to this product line provides our customers with a greater selection for their process cooling requirements," Rob Kennery, vice president of sales and marketing, says. "Mokon is always striving to meet the needs of our customers."
This new product offering will allow customers to consider portable units versus having to jump to a larger, less mobile central system. This addition will enable the company to offer a larger range of portable options for customers.
½ to 50 Ton chilling capacities
Air-cooled or water-cooled condensing
Scroll compressor
20°F to 65°F (-7°C to 18°C) fluid temperature range
About Mokon
For over 60 years, Mokon has set the standard for high-quality circulating liquid temperature control systems. Through the development of new products, refinement of existing designs, and our ability to create custom engineered solutions, Mokon has consistently demonstrated its ability to foresee the evolving needs of customers in plastics, packaging, converting, composites, food processing, pharmaceutical, chemical processing, rubber, printing, general processing, and many more industries.
The company's product line has grown significantly since it first introduced a water temperature control system in 1955 to include heat transfer oil systems, portable and central chillers, pump tanks, cooling towers, blown film coolers, cold climate coolers, engineered and pre-engineered control panels, maintenance products and custom designed/engineered systems.
Mokon's circulating liquid heating and chilling equipment is proudly designed and manufactured in the USA. Mokon is an ISO 9001 and ISO 14001 certified company.