Press Releases
Mokon Redesigns Their High Temperature (380F) Duratherm MAX Water System Line
August 15, 2015 – Mokon, a leader in high-quality circulating liquid temperature control systems, has completed the redesign of its Duratherm MAX water system line. The new design incorporates a top air discharge directing waste heat away from personnel, increased mechanical compartment ventilation, greater access to components for maintenance, and improved overall performance of the system.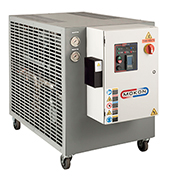 Mokon's Duratherm MAX is a line of high performance water systems with temperatures up to 380°F (193°C) and system pressures up to 300 PSI (20.7 Bar). Duratherm MAX is ideal for restrictive processes and high temperature water applications.
The Duratherm MAX design features a stainless steel heater vessel that is designed and tested to ASME standards. The system utilizes nonferrous and stainless steel materials of construction and a seal-less magnetic drive turbine pump fitted with a stainless steel impeller. The Duratherm MAX incorporates a unique fan-cooled heat exchanger that provides safe and dependable cooling of the process fluid and eliminates thermal shock, flashing to steam, mineral buildup and expansion noise.
Standard Features:
Up to 380°F (193°C) and system pressures up to 300 PSI (20.7 Bar)
Single zone configurations
Up to 24 kW heating capacity
1-1/2 to 5-1/2 Hp pumping capacities
Magnetic drive seal-less turbine pump
Stainless steel heater vessel designed and tested to ASME Code
Air-cooled heat exchanger for rapid cooling
Microprocessor-based controller in easily accessible panel
SCR power controller extending heater life, fast cycling, and energy savings
NEMA 12 rated electrical enclosure with safety door disconnect switch
cULus 508A labeled electrical panel
Meets NFPA 79 electrical safety standards
ABOUT MOKON – For over 60 years, Mokon has set the standard for high quality circulating liquid temperature control systems. Through the development of new products, refinement of existing designs, and our ability to create custom engineered solutions, Mokon has consistently demonstrated its ability to foresee the evolving needs of customers in plastics, packaging, converting, composites, food processing, pharmaceutical, chemical processing, rubber, printing, general processing and many more industries.
The company's product line has grown significantly since it first introduced a water temperature control system in 1955 to include heat transfer oil systems, portable and central chillers, pump tanks, cooling towers, blown film coolers, cold climate coolers, engineered and pre-engineered control panels, maintenance products and custom designed/engineered systems.
Mokon's circulating liquid heating and chilling equipment is proudly designed and manufactured in the USA. Mokon is an ISO 9001:2008 and ISO 14001:2015 certified company.